CarPark 1



CarPark 2



CarPark 3




Image of th Day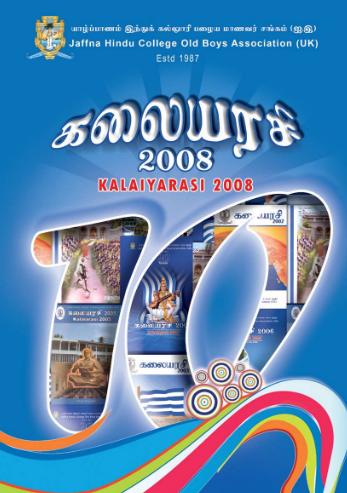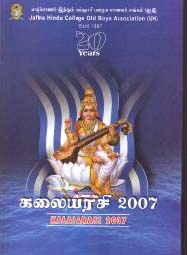 full book in pdf format
REMINISCENCES
REMINISCENCES OF JAFFNA HINDU COLLEGE DAYS


Over 54 year ago, as a boy of ten, I was taken to the Principal's office, in January 1936 by the late Mr. S. Nagalingam (known reverently as Shakespeare Nagalingam) and my father to gain admission to Form I in the college and at the same time as a boarder in the hostel of the college.
Mr. Nagalingam, a friend of my father impressed on my father, the importance of a Hindu boy studying in the Hindu environment. My father at that time thought of admitting me to St. Patrick's College, Jaffna, under the Rectorship of Rev Fr. J.M.F.Long. My past good karma and luck gave me the opportunity of entering the portals of this Great Hindu institution, which stands out as a Beacon of Secondary English Education in the north of Sri Lanka. The College has served 100 years, the people of Northern Province mostly aid the whole country generally in fulfilling the needs of the younger student generation over these years magnificently and graciously. Hindu College, in Jaffna, has produced great men in all walks of life, Educationists, Administrators, and professional men of honesty, integrity and brilliance.
It was in 1936, the College which was serving only for boys, decided to admit girls to the College for the first time under the able Principalship of late Mr. A. Cumaraswamy, an eminent educationist with great foresight and devotion. The College did grow in eminence in all fields of activity during his leadership for over three decades.
My classmaster in Form IA, late Mr. T. Ramasamy, a kind and devoted teacher inculcated into us the correct way of pronouncing English words according to the Oxford dictionary. On the first day in the class, a passage was read by him to the class for dictation (English) and I made 10-12 spelling mistakes. After correcting the books, Mr. Ramasamy called me to the table as I had made most mistakes, taped my forehead and remarked "You have a wide forehead and enough brain matter inside why did you make so many mistakes?" The remark made me feel so embarrassed in front of the class, then and there I made a determined effort to improve my spelling. Every term end, Mr. Ramasamy an enthusiastic dramatist, always organised his class students to contribute an interesting episode of Shakespeare's plays like Merchant of Venice, Julius Caesar, King Lear, etc. and I had the opportunity of participating in all three end of term concerts.
I remained as a student from 1936 to 1944 with a break of one and a half years in Colombo at St.
Joseph's college, Maradana. I succeeded in the London Matriculation Examination held in January
1943 and remained in the University Entrance class till the end of 1944. All throughout my career in the College resided in the College Hostel.
The experience, educational fulfilment and other extra curricular activities moulded me to be a responsible, resourceful member of my profession. The influence of the College, and hostel I environment really helped me to discipline myself and channel my energies and enthusiasms into religious cultural activities at College and outside in the society as a professional medical man.
I had the unique opportunity of being taught in the various forms in various school subjects, by almost all the members of the staff from the Principal Mr. Cumaraswamy, and Vice Principal Mr. V.M. Asaipillai to every other senior grade and special grade members of the staff. They instilled into us h knowledge, life experience and discipline.
In the hostel environment Mr. A. Subramaniam, Mr.K.S. Subramaniam and Mr. C. Subramaniam (orator) did greatly contribute to my personality and well being. Late Mr. K.S. Subramaniam was a gifted warden who understood the psychology and make up of young and adolescent boys. He never spared the rod and spoilt the child.
An institution prospers on the calibre of men who are leading and guiding the institution. Jaffna Hindu had been and is fortunate to have that leadership and devotion in the various Principals and staff, some of whom are still continuing that great service whilst any have demised within my life experience.
This College was started with the Blessings from that Great Tamil Saiva Savant Sri-La Sri Arumuga Navalar and the contribution she has made to Hindu, English and Tamil education in the Northern Province for the last 100 years is paramount and monumental. May she continue that great service to the community and country for many more centuries.
Dr P. Sivasothy
Consultant in Venerealogy and Dermatology at General Hospital, Jaffna 1964-1968)
Secretary Jaffna Hindu OBA Jaffna (1964-1968), Presently in the United Kingdom.
Centenary Celebration Souvenir, 1990

TOP
---
HUNDRED YEARS OF HINDU EDUCATION SOME REMINISCENCES


The Hindu and Buddhist revivals heralded by Arumuga Navalar and by the Anagarika Dharampala, saw the birth of Jaffna Hindu and Ananda Colleges and their branch schools. Their sacred duty was to wean the Hindu and Buddhist children from the proselytising influence of Christian Missionary schools, which held the monopoly of education for many years; and Hindu and Buddhist children had to change their faith, or pretend to do so, if they wished to satisfy their thirst for learning. Most of them soon reverted to their own faith. Many prominent Hindu Families, even today, bear the brand of apostasy by retaining their Christian names. It must, however, be acknowledged with gratitude that the coming of the Christian Missionaries and their services, especially in the field of education, benefited us and gave us a head start over other communities.
The late Justice V. Siva Subramanian, writing in the 75th anniversary number of "The Hindu" and quoting Wordsworth says (I am quoting from memory) that the thoughts of the past engender benediction -benediction on these great men, Advocate Nagalingam, Pasupati Chettiyar, Nevins Sithamparapillai, Chellapahpillai, who, actuated by the resolve to preserve our religion and with courage as their only asset, founded a Hindu School in Vannarponnai, to impart to Hindu children an education based on Hindu ideals and the Hindu way of life; benediction on the Principal, Nevins Selvadurai and his dedicated band of assistants who fostered the fledgling and saw it grow a mighty giant; and benediction on those young men, who by their achievements brought honour to the school and made it rank as the equal of older institutions.
Principal Nevins Selvadurai used to tell us of the travails they went through in the early days in running a school with meagre resources, how the few pupils his father brought from his school in Main Street grew in numbers, how the school was affiliated to the Madras and the Calcutta Universities, how C. Coomaraswamy (later High Commissioner) was the first to pass the First in Arts examination, and was followed by others and how A.R. Shanmugaratnam (later Vice- Principal of Royal College and Principal of Palaly Teachers Training College) created a record, passing the Cambridge Senior with First Class Honours and five distinctions. It was a moving saga of adventure in education.
In an article like this it is not possible to avoid a personal note and I hope my readers would forgive me if I let a little egotism creep into it. It is a natural for a person to boast that his generation in school and in life was the best and in that way, I regard my two eras, one as a pupil and the other as a teacher in JHC, were the best.
I joined Jaffna Hindu in 1918, when JHC won championships both in Football and Cricket and had record passes in the Cambridge Senior. In the very first week of my joining, there was a meeting of the Literary Association presided over by the Principal. The chief item was extempore speeches, that is unprepared speeches on subjects which had been drawn by the speakers by lots. The subject, which fell to me, was 'ideals'. I had come from Manipay Hindu, wher I had memorised for an elocution contest, a passage from Annie Beasant's speech on 'Hindu Ideals' - I repeated it word for word and held my fellow students almost spell bound. When all the others had spoken, one of whom was Nadesen, the eminent QC of later years, the Principal rose and said, "We have heard a real orator today." Thus it came to pass that the sobriquet 'orator' has stuck to me all these years and given me an undeserved status. Years later, I told my friend Nadesan, the secret of how, once in my life, I had got the better of him.
I happened to play both in the Cricket and Football first teams for three years, not because of my prowess in the playing field, but because I could speak English a little better than others. At the end of the matches, there used to be tea and the visiting team had to thank the host team and our captains used to pass on that duty to me. I was in the college hostel which had about sixty resident pupils. The principal lived in the premises and so we were a disciplined lot. He was an eminent educationist and was on many boards of education and as such he used to be away in Colombo most of the weekends and then pandemonium was let loose. There were coconut trees all round the well and we used to climb them to pluck young coconuts. One day the Principal had returned from Colombo earlier than expected and awakened by the noise we made, came up to investigate. On seeing him we dispersed in all directions. M.C. Nadarajab, later the Chief Audit Examiner, then a puny little creature, climbed up one of the plantain trees. When the Principal saw him, his anger vanished, and he burst into fits of laughter saying, "This is the first time I see a human being up a plantain tree."

In 1922, we won the Inter Collegiate Athletic Championship and Rev. Peto who had come to St.
Johns as Principal, from Cambridge rated Sivasubramaniam as good as a Cambridge blue.
Balasingham, later doctor and doyen of the Manipay Green Hospital, ran the mile with his tuft of
hair and verbg tucked up in the 'sandi kattu' fashion, and got the first place.
Nevins Selvadurai went to Trinity College as Headmaster on the invitation of Rev. Fraser. He was away for about four years during which period Siva Rao and Sanjiva Rao were Principals. When he returned, he was a changed man especially in sartorial elegance, having given up his "Tharu" and donned Chesterfield coat, trousers and turban. He was a regular martinet and believed in the efficacy of the cane. When he emerged from his home in stately splendour and strode the quadrangle, there was hush all round and pupils and teachers alike settled down to serious work. Sometimes he used to walk into the tea shops in front and thrash pupils playing truant there. Once one of the victims was bold enough to remonstrate and say "I am not a pupil of Hindu but of Kilner College." (A school near by) "If you are a pupil of Kilner College, run upto Kilner College" said our Principal, redoubling his strokes. In Vannarponnai, a centre of Hindu Culture, and where in certain parts, thugs, bullies and nautch girls haunted, he held undisputed sway and protected us and the school from harm. His testimonials carried great weight and were much sought after. In giving one to a boy of dubious conduct, he would say, "Wretched fellow, I know what you were up to here, but go and do well." Such boys always did well in life. He attended the Ottumadam Church on Sunday mornings and on his return taught us scripture, Gospel of St. Matthew and Acts of the Apostles, a subject for the Cambridge Senior and I am glad to say I obtained distinction in it. When he retired, he lived like Mr. Chipps, close to the school. He contested and won a seat in the State Council and took a leading part in the public life of the country till he died full of years and honours.
While our Principal was an imperialist, some of the senior teachers were nationalists. Those were the days of the Home Rule Movement in India. Tilak had died and Gandhiji had returned from South Africa and was organizing the Non-Co-operation agitation. Our teachers used to tell us of those stirring times. V. Muttucumaru M.A. taught us English and History. He pioneered agriculture and colonization in Paranthan and Kilinochi in the Iranamadu area. He was also an active temperance worker and secretary of the YMHA. A man of high ideals, he tried to inculcate them in his pupils.
V. Nagalingam, N. Sangarapillai, C.M. Kulasingham were the other great teachers and they were my coleagues later in JHC.
I returned to Jaffna Hindu as assistant teacher in 1940 almost in the middle of the Coomaraswamy Era, which is justly regarded as the Golden Age of JHC. Against the opposition of some directors of the college, who were always enamoured of Principals brought from other lands, A. Coomaraswarny, who had returned from the University of London with the prestigious Masters degree in Education, was appointed Principal. He set about his work very systematically and sustained it and organized the work with a perfection unknown before. V.M. Asaipillai, the Vice-Principal and V. Ponniah later a PhD, ably assisted him. V. Nagalingam, who had passed on the special post due to him, to Asaipillai to induce him to leave Parameshwara College and join JHC, and who commanded the confidence and respect of the pupils, was liaison between them and the authorities. There were vast changes and glorious achievements. A playing field adjoining the college became a reality. In our days we used to go to the esplanade for games. The carnival of 1940 proved that Hindus too could organize such fetes and set a standard for similar school carnivals. The OBA had its first annual dinner on western lines but with a strictly vegetarian menu, plantain leaves bring put over the plates to satisfy the orthodox. I proposed the toast of the guests as I did later in 1965, when Albert Pieris, the Speaker of the Parliament was the chief guest. Sir Ivor Jennings, the first Vice-Chancellor of the University of Ceylon, was the chief guest at our Prize Day in 1942. We won the Inter Collegiate Championships in Football first and second elevens, for three years in succession, 1941-1943, beating St. Patricks College for the first time in 1942. Captains Murugesu and Jeevaratnam, Janakan, Ramalingam, Nadarajah, Thurairatnam, Packiyarajah and Kanagalingam were outstanding. I was very helpful to Thiagarajah in coaching the team as many of the above players were in my class and I could enforce their regular attendance at practice. Valuable additions were made to the library. I taught English and Latin in the S.S.C. and English and Logic in the London Inter Arts class. Nagalingam taught the Shakespeare part of the syllabus. Five candidates sat the London Inter Arts in 1943 and all passed. Coomaraswamy had plans to start a regular under-graduate Dept. and laid the foundation for an administration block and buildings to house the laboratories; but they were abandoned when Free Education was introduced. The upper floor of the administration block is now spacious Coomaraswamy Hall. He paid the penalty for his hard work and died in harness of a heart attack, thus ending a glorious era of Jaffna Hindu.
The Pannai tragedy took place in 1943 when a launch carrying school children sank and four of our hostellers lost their lives. V. Subramaniam, called the miler, later Asst. Commissioner of Labour, and I went to Pungudutivu to pay our last respects. Subramaniam carried me on the pillion of his bicycle and he carried the bicycle into the boat at crossings of the seas. One of the dead, Muttucumaru, son of the saintly Pasupatipillai, was a very bright pupil. When we were leaving his home it was mid-day, and Pasupatipillai, in the midst of his grief, sent a man after us, offering to arrange our lunch in a brahamin's home. This was typical of the proverbial Tamil hospitality and especially that of our brethern in the Islands.
Sir W. Duraiswamy, the Speaker of the State Council was manager and held the scales evenly and justly in the appointment of teachers. The college gained in prestige and efficiency under his management.
I left JHC to become Principal of Skantha Varodaya College in December 1943. I tried to follow my Principals' methods and whatever success I achieved in this school, I owe a good part of it for the training I received under them.
I wish to make special mention of some teachers who contributed to Hindu's greatness. KS. Subramaniam (K.S.S.) will long be remembered by generations of hostellers. He organized the hostel and made it a valuable adjunct of the college. He showed that a vegetarian diet could be both nourishing and palatable, attracting resident pupils and not repelling them. We still savour the Friday Payasams.
Speaking at a reception to Sharvananda in his elevation to the Supreme Court Bench, he said that once he served on the jury to find that the Presiding Judge, the State and Defence counsels, the interpreter Mudaliar and even the accused were his old pupils. He resigned his wardenship owing to a disagreement with the Principal before I joined. I filled the vacancy and tried hard to maintain the standards he had set. We were a happy community. The hostellers used to march to Nallur Kanthasamy Temple on Friday mornings, singing Bakthi songs, and our worship used to be more fervent if there was a match that evening. P. Sivasothy and A. Vanniasingham, now doctors, and Appucutty were the organizers.
P. Thiagarajah's work as Physical Director will always remain a landmark in the history of the college. He threw himself heart and soul into his work and infused a new enthusiasm for games, which were the breath of his life. Many championships were won and many records were established during his time. His services to school sports in Jaffna are worthy of mention. With the help of Pattabiraman, Vice President of the Cricket Board of Control, India, he organized the Jaffna schools cricket team's tour of Tamil Nadu and Mysore. The Principals Association appointed me manager of the team. We played with remarkable success in all the major cities and with Christian and Presidency Colleges and with the Annamalai University. He was of immense help to me when the Principals Association entrusted me with the responsibility of inviting the Victorian schoolboys cricket team to Jaffna and arranging a match with the Jaffna schools team. When he passed away, Jaffna lost a great sportsman and a great sports promotor.
In this period the Biology Department was started and strengthened. S. Doraisamy MSc, N. Jayaseelan and V. Ramakrishnan were the teachers. Ramakrishnan was an Honours graduate of the Madras University and a good sportsman. He devoted all his time in teaching, writing Zoology books and helping the weaker pupils. Many of his pupils are medical men all over the world. Jayaveerasingham and S.V. Balasingham, later Principal, Jaffna College, were history masters and the latter founded the Historical Association. We can never forget the ebullient K.V.M., who brought sunshine into any company, the ever smiling Sara who always updated us on current affairs and was a successful physics teacher and Tamboe master, my own teacher, with his witticisms and admonitions.
Space does not permit me to write a full appreciation of the late Principals; of Asaipillai, during whose time the college had record number of passes, especially in the University entrance; of C. Sabaratnam, the old boy Principal and my classmate; of N. Sabaratnam, who stuck to his Vice-Principal's chair and declined to sit in the Principal's chair, even after he was confirmed and who, with his quiet efficiency, maintained the earlier standards and enhanced them considerably; of E. Sabalingam, the disciplinarian; of P.S. Kumarasarny, whose appointment was hailed by us all as ensuring the future of JHC, but who, to our utter disappointment, retired early due to ill health and passed away recently; and of Ponnampalam, the present Principal, who has steered the school through very difficult times and secured the best AL results in Jaffna this year.

Our college has produced men who have enriched life in Sri Lanka, men like Coomaraswamy, the G.A. and High Commissioner, Sri Kantha, the Permanent Secretary, Professors T. Sivaprakasapillai, P. Kanagasabapathy and K. Kailasapathy, Justices Sivasubramaniam and Sharvananda, Senators Azeez and Nadesan, Attorney General Siva Pasupati, kG. Thangarajah, C.S. Mahadevan, the entrepreneur and my own partner in school escapades and others too numerous to mention. Two years ago both the Chief Justice and the Attorney General were our old boys.
We are proud of our old boys who have been in the thick of the freedom struggle and borne the burnt of the fighting: some have laid down their lives and others are engaged in restructuring resurgent Eelam. We salute the dead heroes.
Recently I passed Ananda College and envied the magnificent buildings which have risen there in recent years. Recently I passed our own JHC and it was heart rending to see the ramshackle buildings and windows hanging on single hinges. Jaffna Hindu's achievements are not second to Ananda's and in some fields even superior. Then why this stepmotherly treatment on the part of the State? Can't the State be persuaded to give us equally magnificent buildings and modern equipment, aids to teaching and learning. Won't the old boys, scattered all over the world, come forward to supply these if the State fails to do it.
The years and events I have stated here have been written entirely from memory and I request readers to overlook inaccuracies.
May God bless Jaffna Hindu College.
Mr. C. SUBRAMANIAM, Teacher - JHC (1940-1943)
Retired Principal - Skandavarodaya College.
---
Some Memories and Reflections of my life at Jaffna Hindu


I feel very happy and privileged to write this article on the occasion of the first international meeting of the Jaffna Hindu College O.B.A.s from different parts of the world gathered together in London.
In fact, I am at a loss as to where I should begin and where I should end, what I should write and what I should leave, as I have been a student, right from my kindergarten days to the university level, and then, a teacher. I also happen to be the son of a highly respected and loved veteran English teacher and disciplinarian, Mr. K. V. Mylvaganam, who was one of the live wires of that great institution for nearly four decades.
Memories come flooding in my mind, as I reflect on my life at J. H .C. I joined the Hindu Primary School, then known as the Hindu Tamil School, in the early 1940's. Then, I went on to J.H.C. in 1945, and studied there till 1956. Later, I passed out as a specialist English Trained Teacher (1st class) in 1977 and ended up in J.H.C. as an English specialist teacher in 1977. I was forced to leave it in 1984, when I had to the perilous situation prevailing there.
The story of my joining J.H.C. as a teacher is at once both interesting and intriguing. It also reflects the continuous vein of affection and close relationship that runs between the teacher and the student which is the hallmark of the Jaffna Hindu Collage tradition.
In July , 1977, I was still a teacher at the Urumpirai Saiva Tamil Vidyalayam, a calling distance from my home. At this time, Mr. P.S. Cumarasamy, a man dedicated to his old College with almost a religious fervour, had only recently assumed the principal ship of J.H.C. He was a student of my father, and then a colleague of his, and held him in great respect and love. He was, as I came to know later, quite eager and anxious to rope me into the College staff. He had even sent some feelers to me, but I was not in a position to acquiesce because of financial constraints at home.
One fine morning in July, 1977, as I was seated in my front verandah, I was surprised to see who but 'P.S'. (that is how he was called affectionately) striding through the front gate! I rose immediately and welcomed him. He made some preliminary inquiries as to the health and general well being of mine and my family. Then, he asked me why I, a son of a loyal and veteran teacher at J.H.C, should allow myself to be constrained within the walls of a village School, and why I should not take the place of my father in a great institution like J.H.C, I explained to him the difficulties I was faced with. But he swept them aside, and argued with me for some time, trying to convince me of the urgency and necessity of coming over to J.H.C. When my wife came to offer him a cup of tea, he even asked her to instill some good sense into my head.
Finally , I felt I shouldn't and couldn't ignore the request of an old teacher, and, more than that of a principal of J.H.C. so, I told him I would come. He was quite pleased, and ,now comes the crucial part of the story. Just as he was about to leave, he tapped his cost pocket, and told me with a smirk in his eyes, Manoharan, I was your teacher. So I you know and what type of fellow you are. That is why wanted to get your consent, So that there would be no hiccups later on. Do you know what I have in my pocket? It is your transfer order to J.H.C." I just stood there stunned and speechless, watching him go away, and in that moment realised how fortunate and blessed I was to have been a part of the lofty tradition and history that Jaffna Hindu College is.
Now, coming over to my student days, the period in which I was a student at J.H.C is often referred to as the "Golden Era" in the history of the College. I was fortunate enough to have been there at that time.
The man at the helm, the Principal Mr. A. Cumaraswamy, was a highly qualified person who maintained an enviable standard in the day-to-day life of the College. He was lucky to have had three leading personalities - the Triumvirate of the college, as you might call them - Mr.K. V.Mylvaganam. a veter English teacher in change of general discipline and the overall welfare of the college, Mr. K.S. Subramaniam, an exemplary Hostel warden who strode the dormitories like a colossus, and Mr.P.Thiagarajah, the doyen of Sports master in the north in that period, to assist him in the administration of the college. He had also a staff, studded with teachers, of high academic qualifications, of great calibre and character, motivated with a since of duty and selfless service in their chosen profession, which could really and truly be called "the noble profession, because of such teachers.
I would like to mention a fact hear, with reference to my personal life at J.H.C, in order to bring out the conscious awareness of an all - pervading conscience that was one of the hallmarks of that majestic institution.
Along with me, my elder brother, Pathmanathan, who excelled both in studies and sports, and my cousin -brother , Nagarajah, later a mayor, of Jaffna ,also studied at J.H.C. My father, in a private and confident undertaking and arrangement with the principal, saw to it that none of us three was ever in any of his classes. This is just one example to illustrate the meticulous care and attention taken to adhere to strict codes of conduct and morality.
There is a saying in Tamil "Yaanai Varum Pinnea mani oosai varum Munea" - which means, 'the elephant comes behind ,the tinkling of the bell comes before' . This was so true of our principal, Mr.A.Cumaraswamy. Every day, he sets out on his regular rounds along the corridors of the college. He walks usually with his hands behind, and in one of his hands there is always the inevitable bunch of keys, which he invariably twists with his fingers, making a very audible tinkling, to which the ears of the students are ever alert and attuned. No wonder then that when Mr. Cum is on his way, he never meets any student strolling in the corridors, and there is always pin-drop silence in the classrooms!
There is one incident involving our principal which I Just cannot but relate here.
The principals room, then, was at the K.K.S. road end. Students who were late to College usually entered through the small entrance at that end, which also faced the principal 's room, as the main gates would have been closed at the opening time, 8.3OAM. Usually, the Principal is seated in his room in the mornings, eternally on the look-out for any late comers. His room had swinging doors, and he could spot out the late comers from his seat, by looking at the legs of those students who tried to make a get- away by scunying past his room. He usually calls them out in a loud voice, and cans them once they are in the room, and unable to come out with a plausible excuse. But, when he is in a particularly bad mood, he sometimes rushes out, and slaps or canes them.
It so happened that one fine morning, a young postman, wearing his khaki shorts as usual, entered the college premises. Mr.Cum, in one his belling event moods, jumped out of his seat and out of
his room, and slapped the poor postman right and left! The postman saw starts, and just stood there dumb found. It was only a few seconds later than Mr. Cum realised his mistake. Later, how the office staff and the academic staff were able to console and pleased the postman and averted any serious repercussions, is another story.
Almost all the teachers who taught me were loveable characters who were endowed with a keen sense of duty, and though strict and unrelenting in maintaining order and discipline in the classroom, were yet quite fond of their charges.
In particular, I must refer to Vidwan K. Karthigesu from Karaveddy, who was my class teacher when I was in the J.S.C. (std .8) He took English and tamil for us. He used to read out my essays in the class as an example to others. I was quite good in all the subjects except Arithmetic, as it was known then, but which included Algebra and Geometry as well. In my J.S.C promotion test, I scored highly in all my subjects, but just failed to get pass marks for Arithmetic. And, Arithmetic was one of the three compulsory subjects, along with English and Tamil.
When I came to college the next term, I found that I had been given a double promotion to the S.S.C. skipping the prep S.S.C.! I was so surprised and happy. It was only later I came to know that my class teacher, Vidwan Karthigesu, had been calling at the principals house during the holidays, and convincing him that, in spite of the fact that I failed to pass Arithmetic, a bright and intelligent student should not be deprived of a double promotion, which, in his view, he deserved fully. And, in the end, because of Vidwan's persuasion and persistence, the principal had given in.
It is a matter of justifiable pride for me that I did not let down my class teacher nor the confidence he had reposed in my talent and ability. Though he has passed away, he still remains quite alive in my thoughts.
Yet another teacher whom I cannot forget is Mr. Ehrambamoorthy, my tamil teacher in the S.S.C when, though getting distinctions in three subjects, and credits in two subjects, I got referred in Arithmetic, he who was good in his maths took upon himself the task of giving me free tuition in Arithmetic during his free periods. He was fond of me because of my prowess in Tamil. Thanks to him, I managed to pass My Arithmetic at the second attempt
In those days, J.H.C was not only leading in the academic field, but also was on top in the field of sports. It turned out hundreds of doctors, engineers, lawyers, judges, high commissioners, Senators, teachers, and professors who all enhanced the reputation of their alma mater in the execution of their duties in there respective fields.
In sports. though they did well in athletics and cricket, it was in football that J.H.C. was supreme. They were the invincible champions in football, both in the first and second Eleven, having conquered the championship in both eleven consecutively for several years.
Cadeting and scouting were also introduced during this period, and grew from strength to strength in the coming years. Some of the present generation would be surprised to know that there was boxing and wrestling too at J.H.C in those memorable days!
If I were asked to mention what in my opinion was the most striking feature in the life and history of this great institution of learning, I would, without hesitation, proudly and happily state that it is that intrinsic and incomparable rapport- the mutually close and affectionate relationship between the teacher and the taught which stands out prominently, and which has greatly contributed to the success of J.H.C, and to the love and respect with which it is held in the hearts of thousands and thousands of its old students all over the world.
Ever today, my heart years longingly towards the sates, premises, corridors and halls, the playground, the hostel and the kitchen, the lane roads around the college, and lingers lovingly and nostalgically, hovering eternally about it.
Manoharan Mylvaganam
Student 1945-1956 Teacher 1979 - 1984
---
Reminiscences of Jaffna Hindu College Days


I am really fortunate to have arrived in the United Kingdom at a time when the JHC Old Boys (U.K.) had planned to celebrate the Centenary of our school in a grand way. Having been away from the U.K. for over 17 years except for brief visits, I had not known of the activities of the Old Boys Association in the U.K.
When I heard about the celebrations my thoughts went back some thirty years. I remembered the two- storied building adjoining the K.K.S. Road. Its massive walls and mighty staircases. Of course I remember it was built in 1890. I had seen the figure on the building. This building is symbolic of Jaffna Hindu College, I thought, Strong, well respected, traditional and full of character. This is Jaffna Hindu.
Jaffna Hindu College is perhaps the best example of the immense contribution to education by the local community leaders in Jaffna over 100 years ago. Unlike the missionary schools, which received support from foreign religious bodies, Jaffna Hindu College is a pure product of our forefathers.
I remember Mr.Asaipillai, our principal, who retired a year before I left school. Well, those of us who had known him will remember that we were very familiar with three-piece suits well before we arrived in the U.K. We also knew that a well worn silk tie will leave the neck through the crisp starched collar in a horizontal direction before it gets tucked into the waist coat. And the French Eau de Toilette, of course. He was a true British gentleman. To us those days with our Jaffna background these may have appeared rather strange. And Mr.C.Sabaratnam, the Vice Principal who subsequently became Principal. I used to think that his dhoby lived next door to his house because he had a daily change of verti (dhoti), national shirt and saalvai, each impeccably clean, starched and pressed. I remember he knew all the text books by heart. Statics, Dynamics and Hydrostatics by S.L.Loney his favourite. He can walk to the blackboard and write out the solution for the problem no 5 in chapter 7 without reading the question.
Memories also come back about other teachers. I only remember many of them by the names which we used rather than their real names. No ill respect at all, of course. There are many interesting and good humored anecdotes and incidents which come to mind. Kaddayar, Samy, Susiam, KVM, Suppar, Theyagar, all have our respect and admiration, I was also fortunate to have shared the staff room with them and others four years after I had left the school, when I joined as a teacher. Though this was only for a brief period of one year, my attachment to the school was strengthened.
Life at school had been fill of incidents, excitements, trials and tribulations. School life is not complete without involvement in sports. Those who do not take part will be supporters, commentators, strategists or analysts. I was fortunate to have played in our 'FA. Cup Final', the JSSA 2nd XI (under 17) championship, and won. My only regret is that I could not play in the 'World Cup Team' (1st XI) as I had to go on to University. I remember the strong tradition of football supremacy of Jaffna Hindu during those years.
A good school is not one which produces only good examination results. In addition to good academic training there should be opportunities for students in character development and involvement in useful extra-curricular activities. Even with the limited resources JHC has long been recognised as a very good school and we are proud to be associated with it.
I hope that after recent turbulent years the school will continue to build on the tradition it had created. The centenary celebrations this year provide the opportunity for us to meet our old friends and contemporaries. We will remember the good old days at school and contribute towards the welfare and development of the school.
The organisers of the Centenary celebrations deserve all the praise. You have sowed the seeds for the development of our school into the second 100 years.
R. Ganesalingam BSc(Cey), BSc(London), Ceng, MICE
Senior Lecturer, School of Civil and Structural Engineering, Nanyang Technological Institute Singapore
Centenary Celebration Souvenir, 1990